Although some evidence suggests that China may have been the birthplace of football more than 2,000 years ago, it is commonly acknowledged that modern football was conceived in 1863 when the English Football Association was founded. In the years since, others have claimed that football was first played in Ancient Greece or Rome, but it was the village contests of medieval times in England which paved the way for football as we now know it.
Sources suggest that England had been introduced to football as early as 1170 (earliest English balls were made using animal bladders). Records also tell of how Edward II became the first to enforce a ban on the game in the 1300s after becoming concerned that it was distracting people from military training during the lead up to a war with Scotland. But despite this and other bans like it that would follow, the game has persevered with increasing popularity.
Earlier versions of the game could be quite brutal, there were no referees and there were frequent violent beatings on the pitch. However, by the time basic rules had been established in the 19th century, tripping opponents was forbidden and handling the ball soon followed suit.
Today, football is an irrevocable part of British culture and has helped shape its history. And with more fans and players getting into the game every year, it shows no sign of slowing down.
Choose your sport
A
Choose your sport
American Football
Archery
Athletics
Badminton
Basketball
Boxing
Cricket
Cycling
Diving
Equestrian
Fencing
Football
Golf
Gymnastics
Handball
Hockey
Indoor Climbing
Judo
Netball
Rounders
Rowing
Rugby League
Rugby Union
Sailing
Slowpitch Softball
Snowsport
Squash & Racketball
Swimming
Table Tennis
Taekwondo
Tennis
Triathlon
Volleyball
Weightlifting
Yoga
American Football
Archery
Athletics
Badminton
Basketball
Boxing
Cricket
Cycling
Diving
Equestrian
Fencing
Football
Golf
Gymnastics
Handball
Hockey
Indoor Climbing
Judo
Netball
Rounders
Rowing
Rugby League
Rugby Union
Sailing
Slowpitch Softball
Snowsport
Squash & Racketball
Swimming
Table Tennis
Taekwondo
Tennis
Triathlon
Volleyball
Weightlifting
Yoga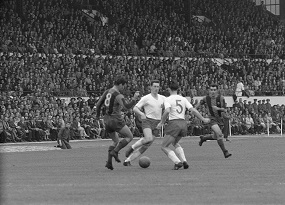 A scene from the Europa Cup in 1961
Wikimedia Commons