The history of netball is very closely linked with that of basketball – the sport on which it is based. Canadian physical education teacher James Naismith invented basketball in a Massachusetts YMCA in 1891 with a couple of peach baskets and a medicine ball. It wasn't long after that when netball appeared. The sport began life at the end of the decade in England with a game at Madame Ostenburg's College in 1895.
The first set of rules were developed in 1901 and the sport rapidly spread across the British Empire. Australia and New Zealand were quick to adopt the sport, but it took more than 50 years for participating countries to come together and form the International Federation of Women's Basketball and Netball. It was during this meeting in 1960 that the rules were internationally standardised as previously there had been different national variations of the game. In 1963 the first official international tournament took place in Eastbourne, England and has now developed into the World Netball Championships.
While it hasn't yet become an official member of the Olympic programme, netball was named a recognized sport by the International Olympic Committee (IOC). It has, however, been a part of the Commonwealth Games since 1985.
Choose your sport
A
Choose your sport
American Football
Archery
Athletics
Badminton
Basketball
Boxing
Cricket
Cycling
Diving
Equestrian
Fencing
Football
Golf
Gymnastics
Handball
Hockey
Indoor Climbing
Judo
Netball
Rounders
Rowing
Rugby League
Rugby Union
Sailing
Slowpitch Softball
Snowsport
Squash & Racketball
Swimming
Table Tennis
Taekwondo
Tennis
Triathlon
Volleyball
Weightlifting
Yoga
American Football
Archery
Athletics
Badminton
Basketball
Boxing
Cricket
Cycling
Diving
Equestrian
Fencing
Football
Golf
Gymnastics
Handball
Hockey
Indoor Climbing
Judo
Netball
Rounders
Rowing
Rugby League
Rugby Union
Sailing
Slowpitch Softball
Snowsport
Squash & Racketball
Swimming
Table Tennis
Taekwondo
Tennis
Triathlon
Volleyball
Weightlifting
Yoga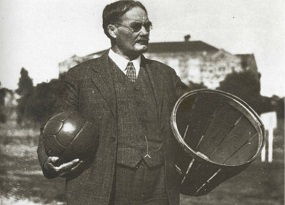 James Naismith, inventor of basketball, is also credited with creating netball
Wikimedia Commons