It may sound surprising but table tennis had its start on UK soil! It is thought that table tennis is likely to have evolved from the ancient games that became lawn tennis in England. In the late 1800s, it was played under the names gossima, patented by John Jacques and Son, and whiff-whaff, patented by Slazengers. It was known by many names and with many variations until table tennis and ping-pong finally prevailed as the best-known titles. It nearly ceased to exist in 1904 as the initial craze in Europe begins to fade before gaining popularity again between 1905 and 1910.
The International Table Tennis Federation was found in Berlin in 1926 and the first world championships were held that same year in London, England. Though being initially dominated by Europe, the sport's popularity soon moved East. A modified version had been introduced to Japan where it spread to China and Korea.
In 1988, the sport became part of the Olympics and in 2002, it joined the Commonwealth Games. Also, thanks to its great accessibility, the game is also a popular sport in the Paralympics having been a part of the programme since the first Games in Rome in 1960.
Choose your sport
A
Choose your sport
American Football
Archery
Athletics
Badminton
Basketball
Boxing
Cricket
Cycling
Diving
Equestrian
Fencing
Football
Golf
Gymnastics
Handball
Hockey
Indoor Climbing
Judo
Netball
Rounders
Rowing
Rugby League
Rugby Union
Sailing
Slowpitch Softball
Snowsport
Squash & Racketball
Swimming
Table Tennis
Taekwondo
Tennis
Triathlon
Volleyball
Weightlifting
Yoga
American Football
Archery
Athletics
Badminton
Basketball
Boxing
Cricket
Cycling
Diving
Equestrian
Fencing
Football
Golf
Gymnastics
Handball
Hockey
Indoor Climbing
Judo
Netball
Rounders
Rowing
Rugby League
Rugby Union
Sailing
Slowpitch Softball
Snowsport
Squash & Racketball
Swimming
Table Tennis
Taekwondo
Tennis
Triathlon
Volleyball
Weightlifting
Yoga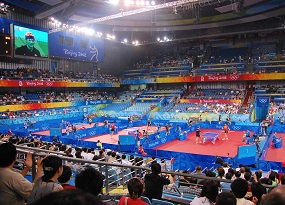 The table tennis venue at the 2008 Olympic Games
Wikimedia Commons