Volleyball was invented in 1895 in Holyoke, Massachusetts by William G. Morgan, a YMCA physical education director. It began as a game called Mintonette as a pastime to be played preferably indoors and by any number of players.
The first rules called for a net 6' 6" high, a 25-50ft court, and any number of players. A match was composed of nine innings with three serves for each team in each inning, and no limit to the number of ball contacts for each team before sending the ball to the opponents' court. In case of a serving error, a second try was allowed. Hitting the ball into the net was considered a foul (with loss of the point or a side-out)—except in the case of the first-try serve.
An observer, Alfred Halstead, noticed the volleying nature of the game at its first exhibition match in 1896, played at the International YMCA Training School and from then on the game became known as volleyball.
Dr Don Anthony MBE founded the Amateur Volleyball Association of Great Britain and Northern Ireland (AVA) in 1955, having been introduced to the game while training with foreign hammer throwers during his national service days in Cyprus. Indoor volleyball made its Olympic debut shortly after in 1964 and was joined by two-person beach volleyball in 1996.
Choose your sport
A
Choose your sport
American Football
Archery
Athletics
Badminton
Basketball
Boxing
Cricket
Cycling
Diving
Equestrian
Fencing
Football
Golf
Gymnastics
Handball
Hockey
Indoor Climbing
Judo
Netball
Rounders
Rowing
Rugby League
Rugby Union
Sailing
Slowpitch Softball
Snowsport
Squash & Racketball
Swimming
Table Tennis
Taekwondo
Tennis
Triathlon
Volleyball
Weightlifting
Yoga
American Football
Archery
Athletics
Badminton
Basketball
Boxing
Cricket
Cycling
Diving
Equestrian
Fencing
Football
Golf
Gymnastics
Handball
Hockey
Indoor Climbing
Judo
Netball
Rounders
Rowing
Rugby League
Rugby Union
Sailing
Slowpitch Softball
Snowsport
Squash & Racketball
Swimming
Table Tennis
Taekwondo
Tennis
Triathlon
Volleyball
Weightlifting
Yoga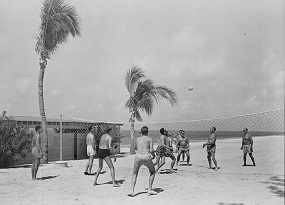 Members of US President Trumanís vacation party take a volleyball break
Wikimedia Commons