The Ancient Greeks were big on health and fitness and many of the movements and equipment used in modern gymnastics originate from this period. The Romans introduced the wooden horse, an early prototype for the vault and were the first to develop it into a true sport. Much of the training was to make better horsemen of the Romans, which is why a lot of gymnastics moves involve mounting and dismounting.
The modern version of the sport wasn't fully developed until the 18th century when German exercise instructors created a series of exercises for young males to perform on apparatus they had designed. The sport was developed and refined over the years and soon enough the Federation of International Gymnastics was created in 1881. Naturally, it was included in the first modern Olympic Games in 1896 – though the events are quite different from the ones you see in competition today, those were standardised by the 1950s. It has since grown into one of the most popular sports at the Olympics, exploding particularly after incredible performances from the likes of Olga Korbut and Nadia Comaneci – who achieved the first perfect score.
There are three Olympic disciplines now: artistic, rhythmic and trampoline. Scores are based around the difficulty of routines, the execution of the moves and in the case of the rhythmic discipline, artistry.
Choose your sport
A
Choose your sport
American Football
Archery
Athletics
Badminton
Basketball
Boxing
Cricket
Cycling
Diving
Equestrian
Fencing
Football
Golf
Gymnastics
Handball
Hockey
Indoor Climbing
Judo
Netball
Rounders
Rowing
Rugby League
Rugby Union
Sailing
Slowpitch Softball
Snowsport
Squash & Racketball
Swimming
Table Tennis
Taekwondo
Tennis
Triathlon
Volleyball
Weightlifting
Yoga
American Football
Archery
Athletics
Badminton
Basketball
Boxing
Cricket
Cycling
Diving
Equestrian
Fencing
Football
Golf
Gymnastics
Handball
Hockey
Indoor Climbing
Judo
Netball
Rounders
Rowing
Rugby League
Rugby Union
Sailing
Slowpitch Softball
Snowsport
Squash & Racketball
Swimming
Table Tennis
Taekwondo
Tennis
Triathlon
Volleyball
Weightlifting
Yoga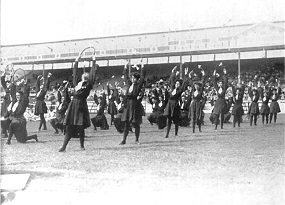 A display from the 1908 British women's Olympic gymnastic team
Wikimedia Commons