The history of squash is rooted in the same place as other racquet sports: in the ancient version of tennis. It began as a game in 12th century France called jeu de paume ('game of the palm') and evolved from there. The first purpose-built squash court was erected by Vernon Harcourt in Oxford in 1883. In 1886, the first set of rules was laid down. The Squash Racquets Association was founded in 1928 to take over the administration of the game in Britain from the Tennis and Rackets Association. It was the recognised World authority for squash until the formation in 1967 of the International Squash Rackets Federation (which later became the World Squash Federation). In 1934, the Women's Squash Racquets Association was created.
Both Associations looked after squash in Great Britain until 1980 when the responsibility for Scotland, Northern Ireland and Wales was devolved to autonomous national associations. The men's and women's associations amalgamated in 1989 under the title of the Squash Racquets Association – in 2001 the Association was re-launched as England Squash. At the turn of the century, the National Squash Centre was built as part of the facilities for the 2002 Manchester Commonwealth Games – England Squash moved north to its new home in Manchester in 2000.
The sport of racketball was introduced to England in the mid 1970's based on the American game of racquetball which had been played since the 1950's. It was adjusted for the UK so that Britons could play the game on squash courts.
England Squash was re-branded to England Squash & Racketball in February 2009. In 2013 England Squash & Racketball launched their new development brand: "The Big Hit" which aims to increase participation of squash and racketball amongst those that have never picked up a racket before.
Choose your sport
A
Choose your sport
American Football
Archery
Athletics
Badminton
Basketball
Boxing
Cricket
Cycling
Diving
Equestrian
Fencing
Football
Golf
Gymnastics
Handball
Hockey
Indoor Climbing
Judo
Netball
Rounders
Rowing
Rugby League
Rugby Union
Sailing
Slowpitch Softball
Snowsport
Squash & Racketball
Swimming
Table Tennis
Taekwondo
Tennis
Triathlon
Volleyball
Weightlifting
Yoga
American Football
Archery
Athletics
Badminton
Basketball
Boxing
Cricket
Cycling
Diving
Equestrian
Fencing
Football
Golf
Gymnastics
Handball
Hockey
Indoor Climbing
Judo
Netball
Rounders
Rowing
Rugby League
Rugby Union
Sailing
Slowpitch Softball
Snowsport
Squash & Racketball
Swimming
Table Tennis
Taekwondo
Tennis
Triathlon
Volleyball
Weightlifting
Yoga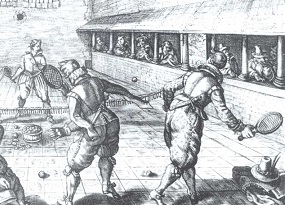 A depiction of jeu de paume being played in the 17th century