Tests of strength and power are as old as civilisation itself. Ancient Chinese records tell tale of weightlifting tests for military recruits, Ancient Egyptian artefacts show men lifting weights in the form of bags of sand, and Ancient Greek sculptures depict citizens testing their strength with heavy stones.
Europe's first organised weightlifting competitions began in the 1800s. They developed in America around the same time, with the sport's first world champion crowned in 1891. Early contests contained many more than the two events now competed in the Olympic programme including lifts with one hand or even just the fingers. Eventually the competitions were whittled down, but also expanded with the weight divisions that have steadily been introduced over time – at the beginning of the sport, there was only one title of strongest man and all competed at the same level, regardless of body mass advantage! Weightlifting was on the programme for the first Games in 1896 at Athens where it appeared with two events: a one-handed lift and a two-handed lift. The sport disappeared in the early 1900s but was then reinstated for the 1920 Games. Female weightlifters made their Olympic debut in the Sydney 2000 Games.
The sport is also an event in the Paralympics as powerlifting, an exercise that appropriately became popular after being used to help wounded soldiers in rehabilitation.
Choose your sport
A
Choose your sport
American Football
Archery
Athletics
Badminton
Basketball
Boxing
Cricket
Cycling
Diving
Equestrian
Fencing
Football
Golf
Gymnastics
Handball
Hockey
Indoor Climbing
Judo
Netball
Rounders
Rowing
Rugby League
Rugby Union
Sailing
Slowpitch Softball
Snowsport
Squash & Racketball
Swimming
Table Tennis
Taekwondo
Tennis
Triathlon
Volleyball
Weightlifting
Yoga
American Football
Archery
Athletics
Badminton
Basketball
Boxing
Cricket
Cycling
Diving
Equestrian
Fencing
Football
Golf
Gymnastics
Handball
Hockey
Indoor Climbing
Judo
Netball
Rounders
Rowing
Rugby League
Rugby Union
Sailing
Slowpitch Softball
Snowsport
Squash & Racketball
Swimming
Table Tennis
Taekwondo
Tennis
Triathlon
Volleyball
Weightlifting
Yoga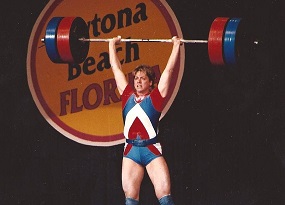 USA's Karyn Marshall makes a lift at the 1987 World Championships
Wikimedia Commons